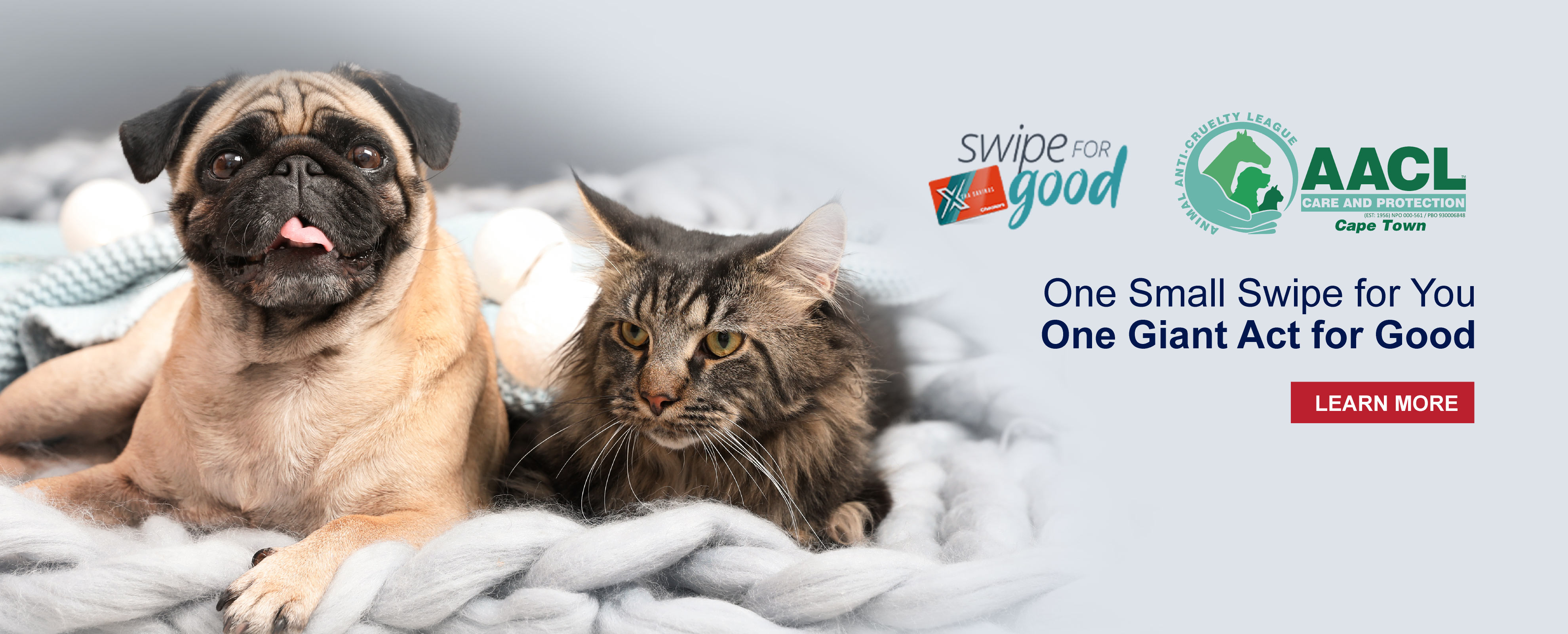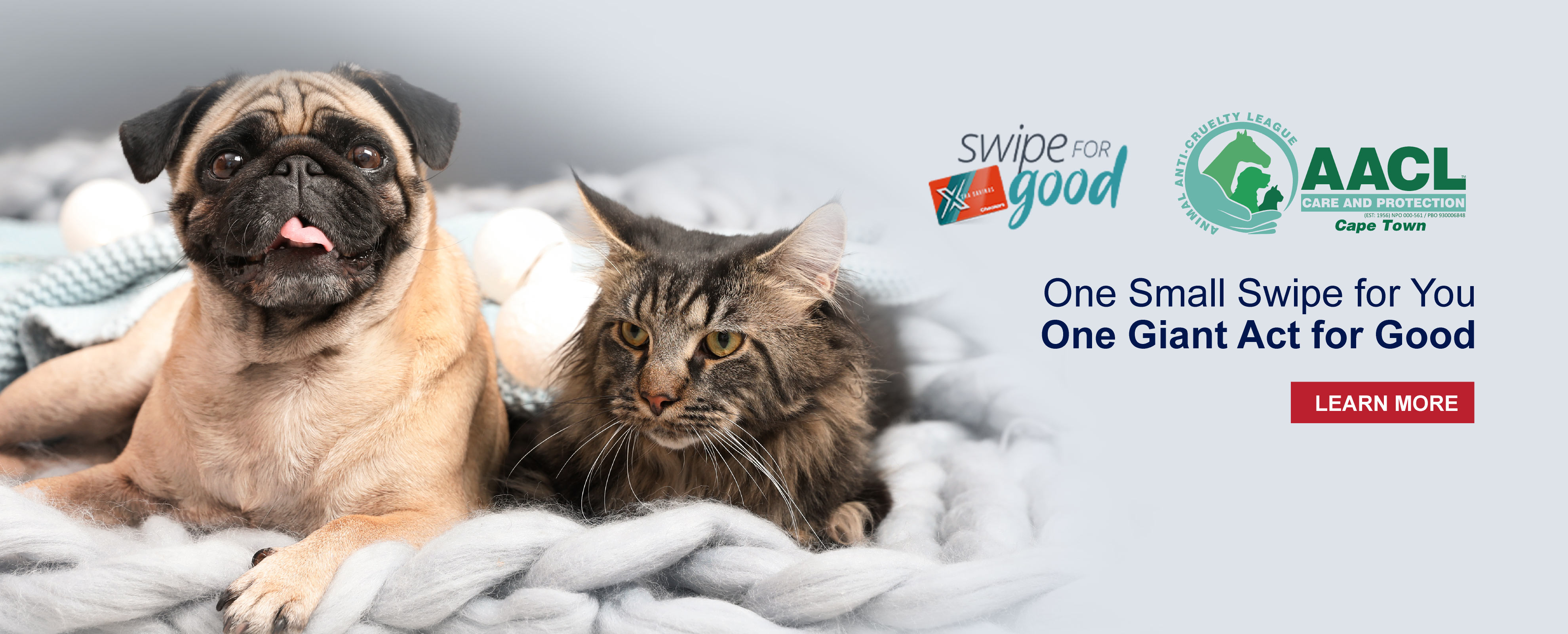 PLSA446-Welfare-Page-Banner-02
PLSA446-Welfare-Page-Banner-02

AACL – Animal Anti-Cruelty League
CURRENT & UPCOMING INITIATIVES & EVENTS
#WeCan Project: – We are challenging 100 000 individuals to donate only R10 to help us reach our goal of R1 000 000.
Blanket Drive: As the hoomans are enjoying the last of the sunshine, the furry furiends are preparing for colder days at the shelter.
The Animal Anti-Cruelty League (AACL) Johannesburg will be holding a 5 km fun walk at the Thaba Trails, South of Johannesburg on 03 September 2022. The Fun Walk will start at 08:00 and meander through the beautiful Thaba Eco Estate. Great entertainment, including pet-orientated product stalls, why not put on your takkies and bring the kids and the dog and have some fun!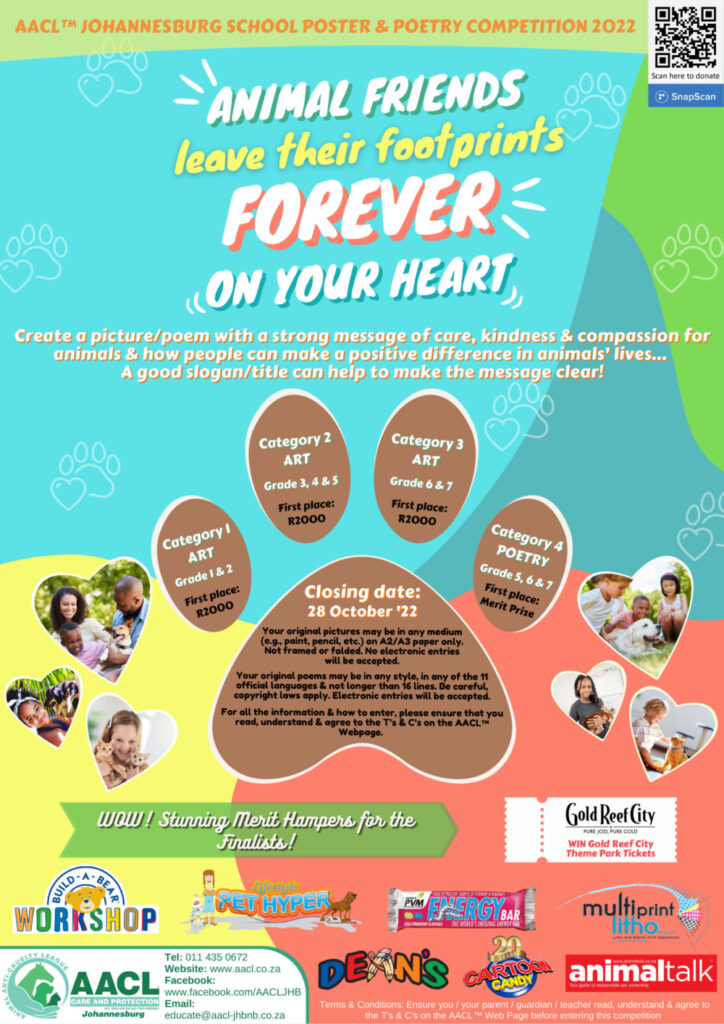 We are challenging 100 000 individuals to donate only R10 to help us reach our goal of R1 000 000. These donations will go toward the primary care of the animals who are in need of rehabilitation.

How you are making a difference.

The #WeCan campaign encourages animal lovers of all ages, to walk this mile-to-a million with us. You are one of 100 000 individuals who have decided to help our four & three-legged friends like Misty, Mo, Star, Percy & Michael. The AACL Cape Town sees in excess of 50 000 animals and the characters who you've heard about are only five of them! You can donate R10 to any of the characters you choose and your donation will enable us to continue caring for our furry friends, as well as those still to come!
As the hoomans are enjoying the last of the sunshine, the furry furiends are preparing for colder days at the shelter.
We're preparing for a cold winter and would like our kennels to be as warm as they possibly can be for the animals.
Should you wish to donate toward our blanket drive, you can drop off fleecy or stormy blankets at your nearest branch.
You can also donate toward this cause by clicking the link below and using the reference BLANKET


AACL Epping & Bellville Wish List
● Leads (new or used)
● Collars (new or used)
● Whiskas dry food for kittens
● Dog toys (strong balls, ropes and safe chew toys)
● Husky brand canned food for puppies: chicken and rice
● Flea treatment (Frontline, Advantix, CERTIFECT or Revolution)
● Gumboots sizes 7 to 10
Please call 021 534 6426/7 to arrange collection.
HELP FROM VOLUNTEERS

● Playtime
● Dog walks
● Dog washes
● Cage cleaning
● Maintenance work
● Easy Admin: Data Capturing
NAME: ANIMAL ANTI-CRUELTY LEAGUE CAPE TOWN
BANK: STANDARD BANK
BRANCH: RONDEBOSCH
ACCOUNT NO.: 071465820
Teaching Children to be Kinder to Animals Today, is Our Only Hope for a Kinder Tomorrow.
Opening and closing of the competition:
The competition opens for entry on 1 February 2022.
The closing date of the competition is at 12pm on 31 October 2022.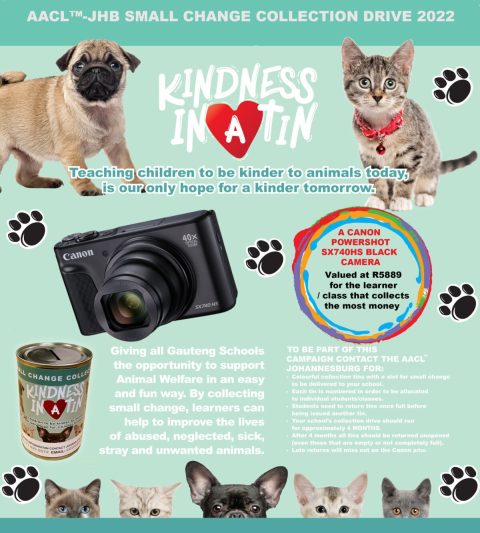 Click on the link here to shop – AACL Cape Town (myshopify.com)
You can find your fur babies food, tick and flea treatments and Treats and toys here, your support helps us to look after all our animals at AACL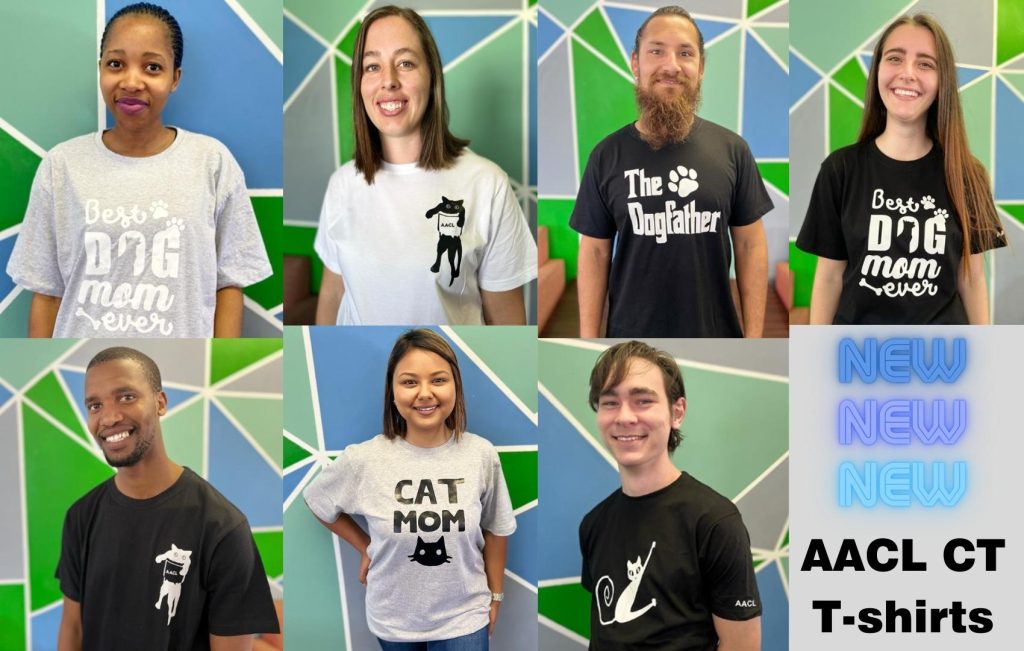 You can now shop our AACL-CT T-shirts! We are excited to announce AACL-CT merchandise.
AACL EPPING TURNED 50 LAST YEAR

At 50, they're all grown up with grown-up goals. To continue the celebration, help them get to: 250 Adoptions AS SOON AS POSSIBLE.
If your heart and home is ready for a pet, choose a pet that needs your love the most.
Save a precious life, change a dear animal's destiny and enrich your life by adopting.


Our Animal Welfare Organisation of the Month is Inclusive Welfare
Services for Dogs
HERE'S WHAT YOU SHOULD KNOW ABOUT THEM.
Tebogo Maredi is the Founder and Chairperson of Inclusive Welfare Services NPC/NPO – established in 2021.
About Tebogo
'I stay in Soshanguve, Pretoria. Three years ago I lost my job and got my Boerboel, Ellie, as a gift from a gentleman. On our walks we would meet skinny, malnourished dogs infested with ticks and fleas, unlike Ellie who is clean and well looked-after. That's when I decided I must step in.
As I was unemployed, I used all my savings to help animals and children. The main idea behind all of this is to keep children occupied and teach them how to love and care for animals. The people in my community used to keep dogs on chains and sometimes neglect to feed them. They also didn't use parasite treatment and prevention products because they are underprivileged and most live in dire poverty.
So I used to go from house to house to help animals in need and eventually managed to save up money to host a small event to give out dog food, wash dogs and involve children as they can easily be taught how to care for their dogs. Later we started hosting big events, servicing over 200 dogs. We also organised mass vaccination and deworming events during which we got 204 dogs vaccinated in one day. The second round we vaccinated 157. We are now doing sterilisations as well and have done 38 to date (we are limited to a maximum of 20 dogs at a time). The sterilisation drive is still running and we're ready for our third group.'
Follow Them on Facebook: Inclusive Welfare Services Dog Page
About this NPC
Inclusive Welfare Services is a non-profit company that mainly deals with educating children and communities about dogs, including acceptable and unacceptable behaviours towards dogs, how to care for and love dogs, how to keep them clean and the importance of disposing of dirty water and replacing it with clean water.
They are working in Pretoria, Gauteng, where they host events that entail giving out packs of dog food, collars, leashes and harnesses, water and dog food bowls as well as washing over 200 dogs per event. But they need our help.
Ultimately, they seek donations of dog food, food and water bowls, collars, harnesses and leashes, shampoos and medications as well as funding to build and maintain a dog rescue centre. There are no rescue centres in their area yet there are many stray dogs, malnourished dogs and dogs that are not taken care of.
Your help and donations will make a big difference in the lives of these dogs as well as the children and adults in the community.
Please consider making a donation today – or even better, a small monthly contribution to their organisation.
● Kennels
● Blankets
● Dog food
● Puppy food
● Nets and fences
● Dog medications
● Canned dog food
● Food and water bowls
● Wires (to build a cable run)
GENERAL DONATIONS
BANKING DETAILS:
Acc Holder:            THE DIRECTOR INCLUSIVE
                                 WELFARE SERVICES NPC
Bank:                       Standard Bank CENTRAL CITY
Branch Code:         051001
Acc. Number:         10 15 539 490 6
Reference:              Cell Number / Email Address
INTERNATIONAL
Swift/Sort Code:    SBZAZAJJ
Branch Code:         051001
OPENING HOURS
Mon-Fri 7:00 am – 19:30 pm
Sat 7:00 am – 19:00 pm
Sun 8:00 am – 18:00 pm
ADDRESS: 1229 Block MM
Soshanguve, Pretoria 0152
CALL: +27 82 342 7905
+27 81 481 5640
EMAIL: inclusivewelfare@gmail.com