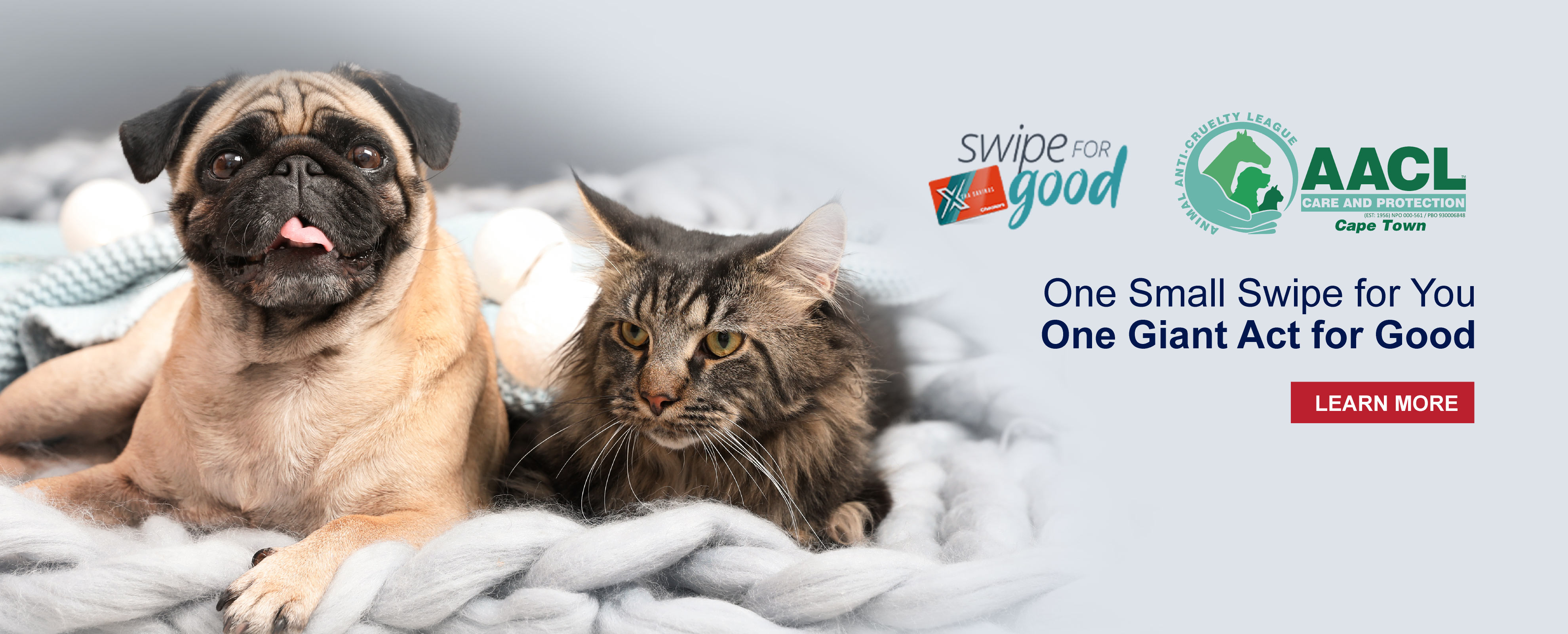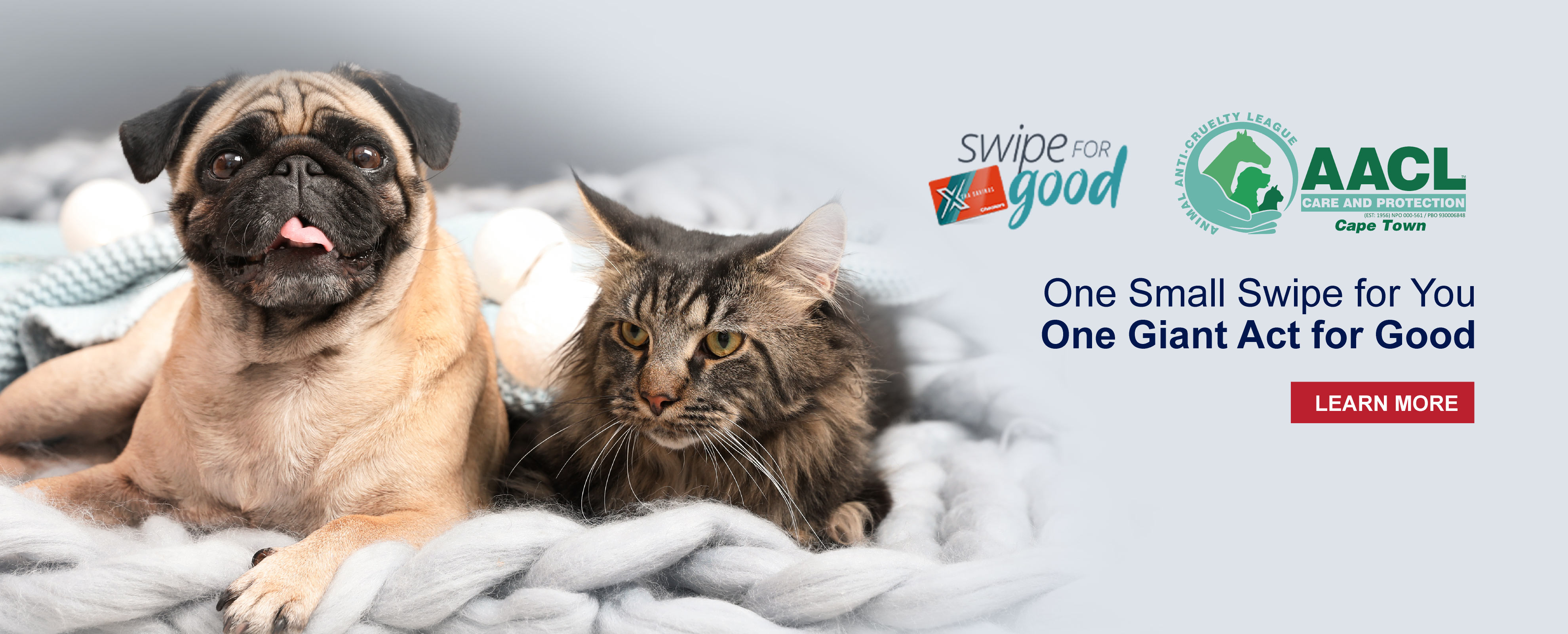 PLSA446-Welfare-Page-Banner-02
PLSA446-Welfare-Page-Banner-02

AACL – Animal Anti-Cruelty League
CURRENT & UPCOMING INITIATIVES & EVENTS
#WeCan Project: – We are challenging 100 000 individuals to donate only R10 to help us reach our goal of R1 000 000.
AACL Epping Turned 50 – Support Our Adoption Drive
Help us get to: 150 Adoptions AS SOON AS POSSIBLE
We are challenging 100 000 individuals to donate only R10 to help us reach our goal of R1 000 000. These donations will go toward the primary care of the animals who are in need of rehabilitation.

How you are making a difference.

The #WeCan campaign encourages animal lovers of all ages, to walk this mile-to-a million with us. You are one of 100 000 individuals who have decided to help our four & three-legged friends like Misty, Mo, Star, Percy & Michael. The AACL Cape Town sees in excess of 50 000 animals and the characters who you've heard about are only five of them! You can donate R10 to any of the characters you choose and your donation will enable us to continue caring for our furry friends, as well as those still to come!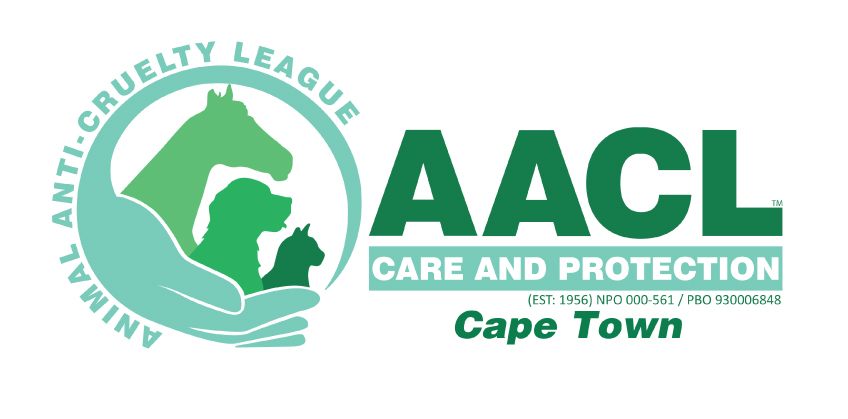 AACL EPPING TURNED 50 LAST YEAR
At 50, they're all grown up with grown-up goals. To continue the celebration, help them get to: 150 Adoptions AS SOON AS POSSIBLE.
If your heart and home is ready for a pet, choose a pet that needs your love the most.
Save a precious life, change a dear animal's destiny and enrich your life by adopting.

Click on the link here to shop – AACL Cape Town (myshopify.com)
You can find your fur babies food, tick and flea treatments and treat boxes here, your support helps us to look after all our animals at AACL

AACL Epping & Bellville Wish List
DONATIONS NEEDED
● Leads (new or used)
● Collars (new or used)
● Whiskas dry food for kittens
● Outdoor roller blinds for cattery
● Dog toys (strong balls, ropes and safe chew toys)
● Husky brand canned food for puppies: chicken and rice
● Flea treatment (Frontline, Advantix, CERTIFECT or Revolution)
● Strong shelving and brackets
● Gumboots sizes 7 to 10
● Filing cupboard
Please call 021 534 6426/7 to arrange collection.
HELP FROM VOLUNTEERS

● Playtime
● Dog walks
● Dog washes
● Cage cleaning
● Maintenance work
● Easy Admin: Data Capturing
NAME: ANIMAL ANTI-CRUELTY LEAGUE CAPE TOWN
BANK: STANDARD BANK
BRANCH: RONDEBOSCH
ACCOUNT NO.: 071465820
One small swipe for you – One Giant Act for Good
Every time you shop at CHECKERS and swipe your Xtra Savings Card, you could automatically be donating meals to hungry animals at AACL.
Contact Carren for more info –
011 435 0672 or jhb@aacl-jhbbnb.co.za
HOW TO OPT-IN FOR SWIPE FOR GOOD

To get started, sign up for the Checkers Xtra Savings Rewards card now. checkers.co.za/xtra-savings

Go to your Xtra Savings profile and opt-in for Swipe For Good by choosing AACL. Swipe your Xtra Savings Rewards card every time you shop at Checkers, Checkers Hyper or LiquorShop. For every 10 swipes, Checkers will donate R3 to Swipe For Good for AACL, which is equal to one meal.

Sign up & get started today!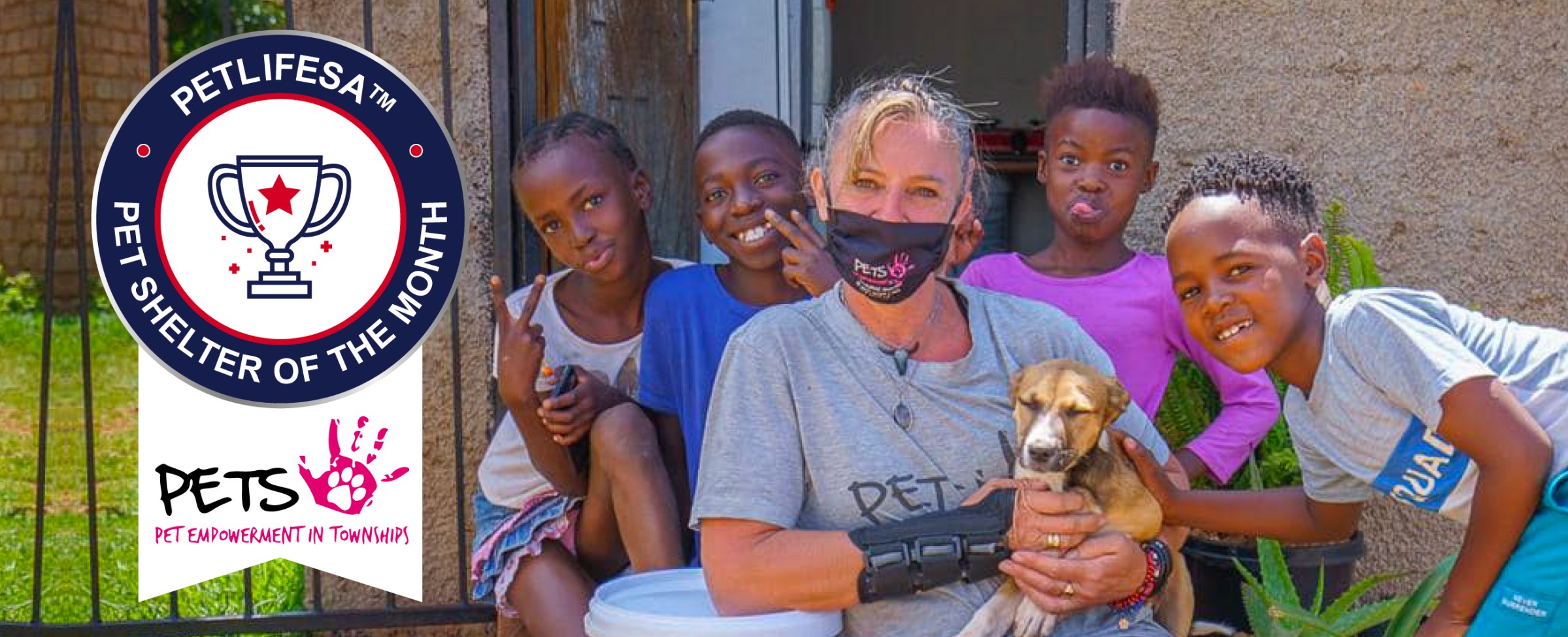 PETS IS A REGISTERED , NON-PROFIT, PRO-ACTIVE, PRO-LIFE ANIMAL RESCUE ORGANISATION. (PBO No: 930025719)
PETS (Pet Empowerment in Townships) strives to empower animals in townships and poor communities. We work with the community to improve the lives of these disadvantaged animals by giving them daily meals, warm shelters, regular inoculations, sterilisations and vet care in emergencies. We also rehome those ones that are unwanted, unloved or lost. We try to instil in the communities, a responsibility and pride for their animals by not just empowering the animals, but also by educating and helping the people uplift themselves. We believe in working hand in hand with the animals and people of these impoverished areas to create unity, trust and stability for all.

Non-Profit: We rely solely on public and corporate donations to cover the costs of our astronomical vet bills, feeding schemes, sterilisations projects and upkeep of our foster pets.
Pro-life: We only ever euthanise if it is in the animals best interests and there are no other options – we fight for each life.
Pro-active: We do not sit around and wait for animals in need to come to us. Instead we spend every free minute we have (much to the distress of our families) in the townships LOOKING for the animals that need help.
Sterilisation: Our main focus is sterilisation in townships. Since 2007, we have sterilised over 5000 animals in JHB and Cape Town.
Foster Care: We believe in foster care because it enables the animal to become part of a loving and caring family immediately which enables it to feel safe, loved and nurtured. In these environments the animals flourish far quicker than they would have in a kennel situation. Foster care allows us to understand the needs and likes of the pets in our care and we are able to match them up with families that would be most suitable for their needs.

PETS JHB does not have a shelter – all our animals are based in foster homes around Johannesburg. If you wish to adopt a pet please visit our ADOPT page on the website.
If you have any other queries, please contact: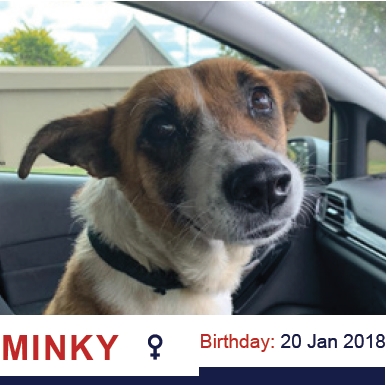 We desperately need a new foster or forever home for Minky. Ideally a forever home as it's not fair to keep bouncing her around. Her amazing foster mom has been given short notice and has to move from where she's been staying. The place she's moving into has no garden and stairs, which is obviously a problem for a front amputee dog.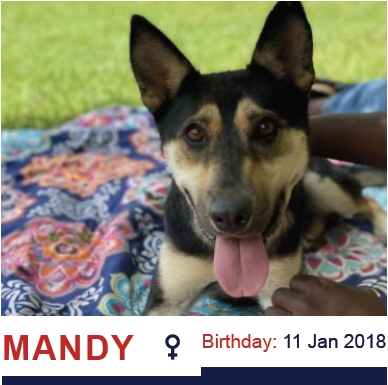 Mandy (previous name-Snoopy) was rescued in orange farm township. She had a very swollen face and her collar had not been loosened so it was also strangling her. It was discovered that she had been bitten by a snake. Mandy is recovering well. She is still swollen, it will take a while to come down. She is currently in boarding as we had no where for her to go.

We rely soley on donations from the public to assist with this our veterinary bill which can reach between R30 – R50 000 per month. Please donate and use "PETS JHB" as the reference when processing the donation. Our banking details are as follows:
Preferred Account details:
Account Name: Walkerville vet hospital
Account Number: 1069300738
Bank: ABSA Bank
Branch Code: 632005
Reference: PETS + your name
Please email proof of payment to jhb@pets.org.za
Alternatively you can donate to our
Veterinary Account:
Account Name:
Radiokop Animal Clinic
Account Number:
277408695
Bank:
Nedbank Business
Branch:
North Rand
Branch Code:
146905
Reference:
PETS JHB
Please email proof of payment to
lauraw.pets@gmail.com